If you've ever considered dentures as a replacement for missing teeth, you've probably done some research and explored them. Depending on your circumstances, you may have needed partial or complete dentures. Both of these solutions require the same level of care and attention as natural teeth. Many people do not recognize this because false teeth are clearly made of synthetic material, and they believe it equals less effort and work.  whether real or not, it  will require the same level of attention and care as any other teeth.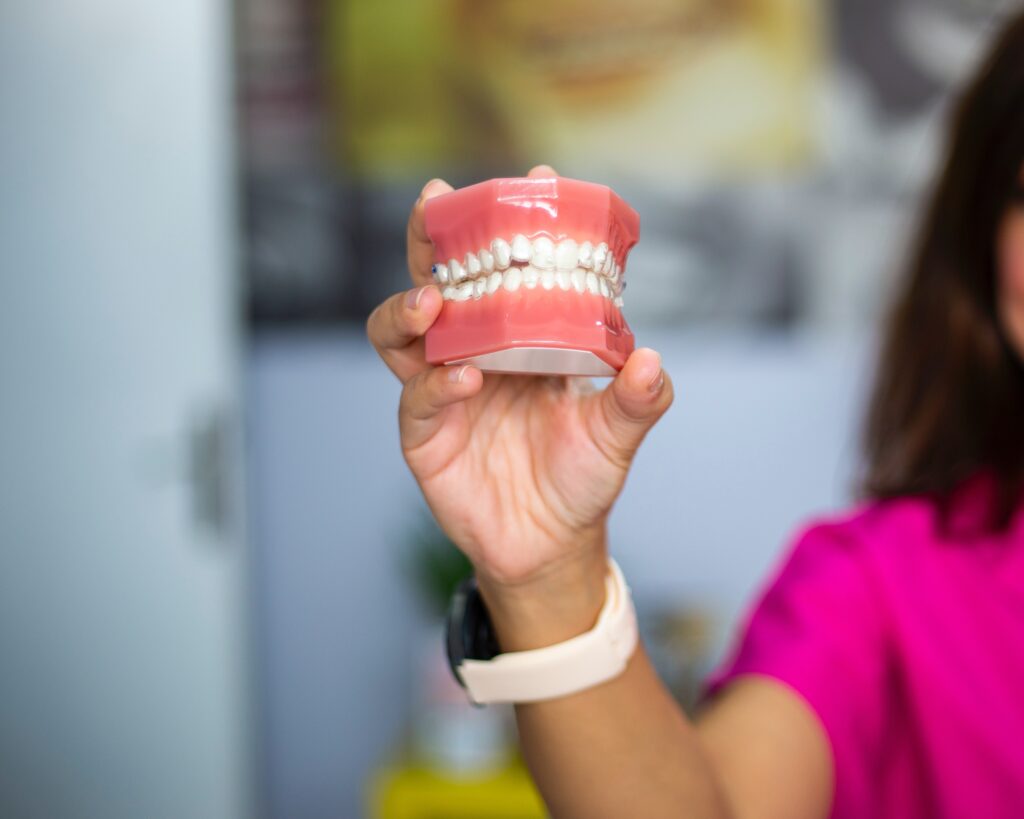 Who Can Get Dentures?
Patients may be missing teeth for a variety of causes, including a physical accident, teeth that never grew in, or teeth that were damaged by severe stages of tooth decay. Denture can be use by individuals of all ages because missing teeth can happen to anyone. People who wear denture can speak, smile, and eat freely without fear of dental pain or damage.
Full Denture
Patients who have lost all of their teeth or who have no healthy teeth left are fitted with full sets of denture. They are available in complete sets for both the lower and upper jaw. Upper denture have a full base that connects to the roof of the mouth for stability. Whereas lower denture have a U-shape to allow the tongue to move freely.
Partial Denture
When a patient's teeth are lacking in a region, a partial denture can be use. Partially removable dentures are supported by a metal framework that is attach to your natural teeth. Dentists will frequently install crowns on nearby natural teeth to serve as denture anchors.
Implant-supported denture
Denture that get support by implants, are a more technologically advance solution to keep your denture in place. All-On-4 dental implants are use to secure the denture. These little titanium posts act as fake tooth roots and are surgically place into your jaw. Implant-supported denture are more comfortable than regular denture, and they stimulate your jawbone, which can help prevent bone loss and sagging of the face.
How To Clean Dentures
Food and plaque adhere to dentures in the same manner that they adhere to natural teeth. After eating and drinking, dental plaque builds on denture and teeth, forming a sticky film of germs. Cleaning denture can be done on a regular basis to maintain your oral health. You'll need the following items to keep your denture clean.
Finally, make sure you thoroughly rinse your dentures afterward; even the mildest cleaning solution might include chemicals that are detrimental to your mouth's natural tissues. You can still enjoy the pleasures of freshly brushed teeth even if you wear dentures. Brush your gums thoroughly once you've finished cleaning your denture.
How Long Will My Dentures Last?
Dentures do not decay over time because they are constructed of artificial materials and are not usually put on top of existing enamel. Dentures need to be replace for a variety of reasons, the most common of which is because the mouth has altered. This is a natural component of growing older, and dentures will need to get tweak in order to stay comfortable and secure.
If you go to your dentist on a regular basis, your dentist will be able to detect the need for a replacement early on, usually before any soreness or irritation develops. Aside from that, high-quality dentures are extremely durable and long-lasting. Pay attention to all of your dental specialist's recommendations and take proper care of your dentures.
Our Dentist are highly trained and offer the most advanced testing and treatment options. Learn more about HMC Special Offers – HMC Medical Center LLC and book your appointment now.
Leave a reply